South-Florida-based Community Care Plan (CCP), the health plan with a heart, earned the highest total number of stars (government rating) across the following six Florida Medicaid Health Plan Report Card categories: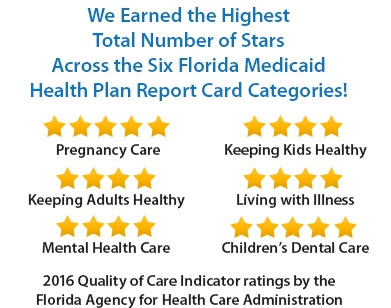 "At Community Care Plan, we are closely connected to our community and focus on encouraging our members to improve their health by seeing their physicians, adhering to medical advice and evidence-based guidelines, and making healthy lifestyle choices. Our goal is to improve the health and wellness of our members and the community at large. I commend our partners in care, providers, and staff members for their outstanding efforts," stated John A. Benz, President and CEO of Community Care Plan.
In addition to earning the highest total number of stars in the above-mentioned categories, Community Care Plan has received high accolades for its outstanding customer service and cost of care, including:
CCP Achieved Over 95% Customer Survey Scores from members and providers in their 2017 Consumer Assessment of Healthcare Providers and Systems (CAHPS) surveys (both child and adult):

95.8% of members said they were treated with respect (survey conducted by Morpace Market research and Consulting).

o 96.3% of providers said CCP was better than other health plans (survey conducted by Professional Research Consultants, Inc.).

CCP Received The Highest Rating In Broward County For Averting Potentially Preventable Events (such as emergency room visits, hospital admissions and hospital re-admissions), as reported by the State of Florida's Quarterly Statewide Medicaid Managed Care Report, Spring 2017.